Shock Wave Therapy for Soft Tissue Injuries
What is Shock Wave Therapy?
Extrcorporeal Shock Wave Therapy (ESWT) works by essentially "re-injuring" a soft tissue area of one's body with little or no discomfort in order to stimulate the body's natural healing process.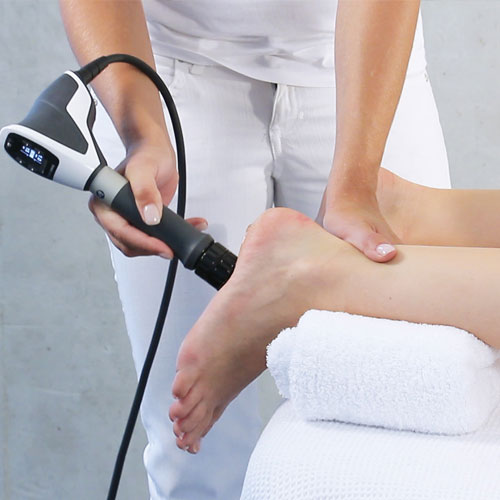 How it Works?
ESWT breaks down adhesions, calcifications, and scar tissue to encourage the creation of new blood vessels in Muscles, tendons, ligaments, fascia, and other connective tissue. This increase in blood vessel production promotes enhanced blood and thereby nutrient flow to the affected area, allowing the body to more completely heal itself.
Common Injuries Treated
– Achillies Tendonitis
– Plantar Fasciitis
– Carpal Tunnel
– Morton's Neuroma
– Patellar Tendonitis
– Hamstring Injuries
– Tennis Elbow
– Hip Flexors
– Golfer's Elbow
– Piriformis Syndrome
– Rotator Cuff
– General Muscular Relaxation
Treatment and Results
– No needles
– No downtime
– No side-effects
– Quick and effective treatments
– Each treatment is 10 to 15minutes, on average
– Normal activities can be resumed immediately or next-day
– Allows your body to heal or diminish the effects of chronic soft-tissue injuries
– Post-treatment clean up is quick and easy
Contraindications
1. Not for use on pregnant women, those with a pacemaker or on anticoagulants
2. Not for use on acute injuries – intended for chronic injury treatment only
3. The device requires bare skin contact and use of gel; easy access to area to be be treated required