InstaLift Procedure
Lift without surgery, volume without fillers.
InstaLift is an innovative, non-surgical treatment that uses Micro-Suspension Technology to help you achieve immediate and lasting results. InstaLift instantly lifts aging, mid-facial skin, including sagging cheeks and deeper nasolabial folds. This procedure also activates your natural collagen production to boost volume over time for up to 2 years. That means you can achieve the look you want- without surgery or fillers. 
Say Hello to Cheeks to That Stay Up
It's natural to have questions when you are considering a cosmetic treatment or procedure. Here are some anwers to some of the most common questions about InstaLift.
InstaLift takes an innovative approach to mid-facial skin rejuvenation — addressing sagging mid-facial skin on the outside and volume loss on the inside. It's the only non-surgical treatment with advanced Micro-Suspension Technology™ that uses micro-cones to provide an immediate lift and a gradual boost in natural collagen production.
Yes. Since April 2015, InstaLift has been the only absorbable suture that has FDA clearance for cosmetic facial procedures.
You may notice a youthful-looking appearance that continues to improve over 6 months following treatment with long-term results lasting up to 2 years.
As with all treatments, Dr. Durland can help determine what is right for you. InstaLift is most often recommended for women (mid-30s to age 50) seeking a rejuvenated, yet natural-looking appearance, as well as experiencing a loss of elasticity/sagging skin and loss of volume in the mid-face. They look in the mirror and lift their cheeks, wishing they could revert to where they once were and envision the youthful appearance they once had.
These women are looking for an immediate lift while adding volume over time. In fact, they may have previously received cosmetic injectables. However, they don't feel ready for surgery. While they have good skin quality, they also notice their nasolabial folds and/or sagging in their cheeks.
This depends on the amount of volume you seek to remove and restore. The procedure
can be done in multiple stages for minimal downtime. For smaller cases, such as face volumization, patients may experience a
mild degree of swelling, bruising and soreness for 24-48 hours, none of which should prevent you from resuming daily activities the next day if desired.
Talk to Dr. Durland about your expectations and ask any questions before starting treatment. Also, be sure to tell her about any treatments you've already had and any medicines you're currently taking.
Yes. The treatment is performed in Dr. Durland's office and takes less than an hour to complete. Downtime is minimal, similar to injections, there can be bruising, swelling, pain or tenderness at the treatment site. Most signs of treatment dissipate within 24-48 hours.
InstaLift is only performed by qualified physicians who have had special, comprehensive training and are familiar with the techniques required.
No. Dr. Durland will only use a local anesthetic to numb the area before treatment.
Apply cold packs immediately after the procedure if required
(Cold packs should be wrapped to avoid direct contact with skin and insertion point)
Acetaminophen may be taken in case of pain
Makeup may be gently applied after a minimum of 24 hours
Sleep face-up, in an elevated position on pillows for 3-5 nights
Do not rub face aggressively when washing, shaving and drying face for 5 days. Be gentle
Avoid excessive face and neck movements for 2 weeks
Avoid exposure to direct sunlight and UV light for 2 weeks
Avoid participating in high impact sports (e.g. running) for 2 weeks
Do not use saunas for 3 weeks
Avoid dental surgery for 3 weeks
Avoid facials or face-down massages and facial aesthetic treatments for 4 weeks
Always consult Dr. Durland should you experience any side effects.
InstaLift should not be used in patients with any known allergy or foreign body sensitivities to plastic biomaterial or in situations where internal fixation is otherwise contraindicated, (e.g. infection). The device should also not be used in patients appearing to have very thin soft tissue of the face in which the implant may be palpable or in patients with excessive heavy skin. due to advanced aging. InstaLift is also not for people who aren't willing to undertake the after-treatment considerations.
Cost of the procedure varies depending on your individual needs. Dr. Durland can discuss all of your options during your consultation.
InstaLift Videos and Testimonies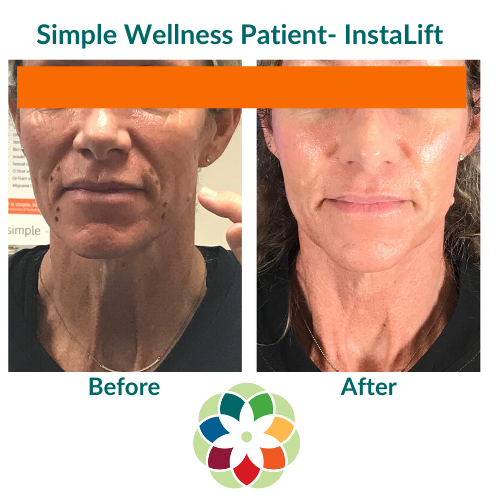 Silhouette InstaLift® has long-lasting effects. It also provides an immediate lift. I instantly noticed the lift in my mid-face and felt like it put my cheeks back where they once were.