Hi readers! Welcome to our new blog series called "I Want Clothes!" For this series, we will be reviewing popular articles of clothing so you can make selections that help you feel and look your best! Our first review will take you into the world of leggings. This staple item can likely be found in all of our closets, in a variety of colors, lengths, and styles. With hundreds of brands and prices to choose from, it can be challenging to find a reliable pair that supports your body in work and in play. This month our focus is on leggings. With a variety of body shapes and sizes, we wanted to give you, the readers, a real reflection of our experience trying on the same pair on leggings.
To start, let us introduce ourselves a little bit!
My name is Bailey. I am 5' 7" and currently weigh about 160 pounds. Normally, I wear a size medium (because I like 'em a little snug.) Leggings are a staple in my wardrobe, just like most girls in University. Finding the right pair of leggings can be difficult for me because I'm picky! I carry most of my weight in the middle so I like to wear leggings with a high rise waist. My calves are really strong and look amazing in a tight pair of leggings! In addition, I look for sculpting, durability, and purchasing from ethical companies.
Hi! My name is Emily. I am 5' 6'' and I weigh around 125 pounds. At athletic stores I usually am a size 4; usually I dance right on the line between small and mediums for leggings because I detest feeling constricted. I usually struggle finding pants because my booty size is bigger than my hip size by normal sizing standards, which means a lot of saggy crotch and see through leggings. I guess it comes with the territory of having a good perky butt! I live for a good pair of high waisted leggings and black is always my go-to color.
Hello! My name is Brea. I am 5'0" and I weigh around 130 pounds. I usually wear either a small or sometimes an extra-small, depending on the brand, in bottoms. I like for my leggings to be tight compared to a more looser/baggier fit. Most of my muscle is stored in my quad and hamstring area. and by being short and My height and petite frame often make it difficult to find leggings that feel like they fit and look right without making me feel too bulky. The type of leggings that I prefer are high-waisted and budget friendly, where I don't have to pay an arm and a leg! Another aspect that is important for me when looking at leggings are finding a pair that are durable and are good for high intensity and weight lifting workouts.
Hey guys, my name is Avery. I am 5'3'' and I weigh 127 pounds. I typically wear a small or size 2 in pants, but often struggle fitting my body type because I have a booty and thighs that are disproportionate to my torso. Therefore, I'm stuck between choosing the attractive camel toe look with a size small or the cute gapey waistband look with a size medium. I feel most flattered in black, sleek high waisted leggings; I wear them literally everyday. I wear leggings to my classes, dance practices and while running and lifting. I'm looking for soft and durable leggings that fit my body type!
Target
Women's Training High-Waisted Leggings -C9 Champions $34.99
https://www.target.com/p/women-s-training-high-waisted-leggings-c9-champion-174/-/A-53854955?preselect=53747487#lnk=sametab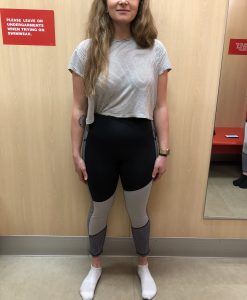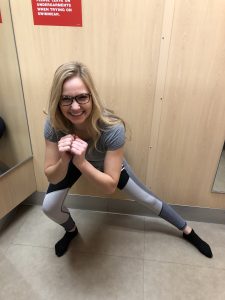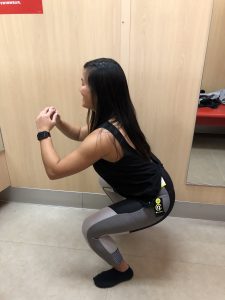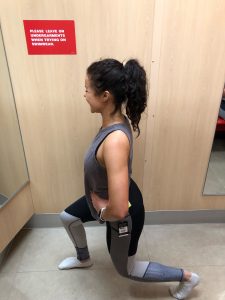 Bailey
Pros- The clock-color scheme is a plus for me. Sometimes, it's easy to get in the habit of wearing the same black pair of leggings everyday but this pair helps to break the pattern. The pockets were nice and the top did not roll down!
Cons- This might be silly, but I think I have small ankles. When I buy long leggings, they are always baggy in the ankles and these ones were for sure. They were also baggy in the knee?? The feel of this legging was sticky, too. It was like no matter how hard I try to pull them up, they get falling down (and I had a large on!). I would have to yank them up all day so, this pair is a no go for me.
Emily
Pros- These leggings definitely passed the squat test. I was able to move around without a worry in the world about any underwear showing. The leggings were also awesome because they had pockets.
Cons- The leggings slipped down my legs easily and could not be worn for a HIIT workout or a run without doing a little dance trying to pull my pants up mid-sweat session. They also showed every bit of my underwear line- a dealbreaker for sure.
Brea
Pros- These leggings are high waisted and compressed which is a positive for me because I feel like it definitely sucks and holds in my lower belly area. I also enjoy that when moving and jumping around the waistband doesn't slip down.
Cons- The downside to these leggings is that if you're short like me (5'0), then these leggings are not your best friend in terms of length. I had to roll these leggings twice just for them to fit around my ankles. Although I did like the compression of the leggings, I feel that doing some exercises or wearing the leggings for too long, I would feel too constricted in them.
Avery
Pros-
The colorblock design was what originally drew my attention to these leggings. I often struggle with high-waisted pants because they normally gap at the tummy but this pair was comfortably fitted to my stomach. And although I don't think I've ever actually used them, legging pockets are always a fun feature!
Cons-
The polyester material was not stretchy whatsoever, making the pants hard to put on and move around in. I may or may not have heard the threads snapping as I was pulling them over my booty (sorry Target!) so I can't imagine what they would look like after an intense workout. Also, two words: underwear lines.
Old Navy
High Rise Elevate Sculpt ⅞ $45.99
https://oldnavy.gap.com/browse/product.do?vid=1&pid=346162022&searchText=High+Rise+Elevate+Sculpt+%E2%85%9E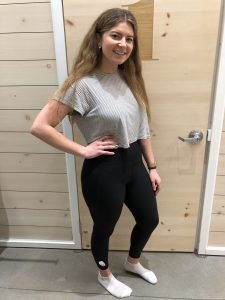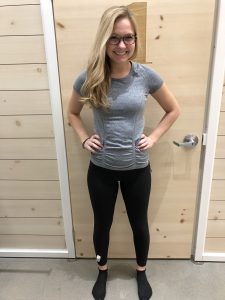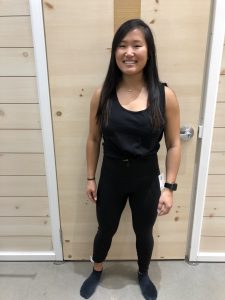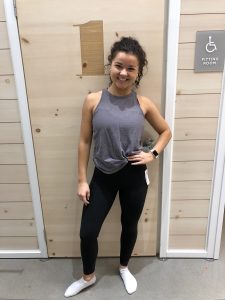 Bailey
Pros- Tons of oohs and ahhs from all of us in the fitting room. I felt like a TOTAL babe in this pair. The compression, seamlessness, length, affordability, and confidence I felt was amazing. I did not want to put my other leggings back on!
Cons- The only reason I have a negative for these leggings is because Old Navy isn't the most ethically transparent as a company. There have been issues with their practices, but this year they increased their BWAA scored from a C to a B-. So there is hope for these leggings!
Emily
Pros- These pants fit like a dream. They sucked me in at all the right spots and the top (high waisted) section of the pants was perfect because it was a little more thin than the area around my hips. I was able to dance around the whole dressing room like it was 2004 and those suckers stayed ON. These leggings are also a little more affordable, especially with the classic Old Navy sales we have loved since middle school.
Cons- The pants were a little constrictive because they were so tightly fitted. You cannot win 'em all!
Brea
Pros- Where do I begin with the pros for these leggings!? I fell in love with them before I even tried them on. The fabric of these leggings are so soft and when you slip them on it feels like butter! These high rise leggings do everything that a legging should do, they are high rise so they hold in my midsection and lower belly area as well as being squat proof. Another major pro for me, is the length of them. As mentioned earlier, being 5'0 can be hard to find the right fit of leggings that are not too long. I would say that these leggins are a great length for petite individuals like myself- I didn't even have to roll/tuck the bottoms!
Cons- Since these leggings are a bit thicker, some individuals may feel that they are too constricting and stiff.
Avery
Pros- Okay, we really found a hidden gem with this one. Old Navy's sculpt leggings compressed my stomach, thighs and booty, making me feel flattered and confident! These pants were durable, comfortable and half the price of a pair of LuluLemon's or Athleta's!
Cons- These leggings are better for activities like lifting or boxing. Because of the thick, durable fabric, they may not be the best for doing things like running or yoga!
Athleta
Run Free ⅞ Tight $98.99
https://athleta.gap.com/browse/product.do?vid=1&pid=353545032&searchText=Run+Free+tight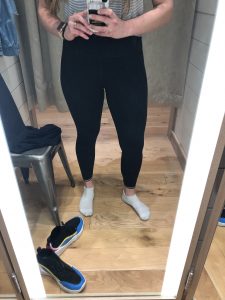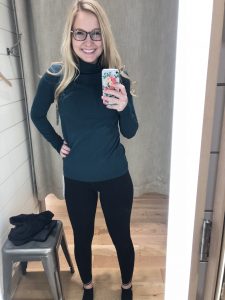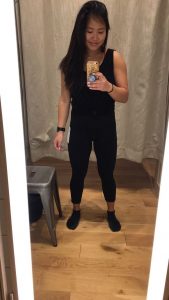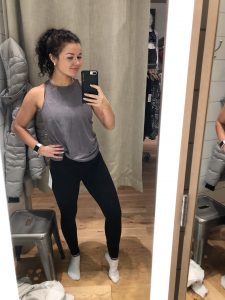 Bailey
Pros- The bottom of the legging was ideal. Tight and with a simple, cute detail, they looked pretty dang good. Honestly, the detail was the only thing I liked about the Athleta pair.
Cons- Where do I start? I could feel every seem, pocket, and zipper. Because I like high-rise leggings for support and hard work outs, the zipper in the back was a major no go because I felt weighed down. Along with that, I tried a medium on but still felt like I had too much room. If I ever went a run in these I'd be yanking for days. The steep price of $98.99 makes me sing, "thank u, next."
Emily
Pros- These pants also fit very well. They are meant for more high impact training which means they are DURABLE. I am into it. These leggings also moved with my legs really well. They had all the compression of my Old Navy leggings, but all the flexibility of my softest pair. These babies also have thin and deep pockets down the side: so sneaky, so awesome. Athleta is also known for their fair trading and ethical company practices so the leggings can be enjoyed guilt free.
Cons- There was elastic at the front of the pant that rubbed against my skin and made me itch at the top of my waist. Granted, I have sensitive skin and not every pair of athleta leggings will have this feature.
Brea
Pros- The fabric of these leggings were soft and felt smooth while wearing them. They felt so smooth that it felt like I wasn't wearing anything!
Cons- Although these are high waisted leggings, they had a bunch of different items on the waistband such as a zipper, drawstring, and pockets. Personally, I am not a huge fan of zippers on my leggings because whenever I am lying down or using some machines, I can sometimes feel the zipper digging into my back. Also, for some reason I felt that these leggings just didn't look nor fit right on my body type, they made me feel too bulky.
Avery
Pros- These leggings were incredibly soft, breathable and light so they would be perfect to throw on for a run.
Cons- I don't think there is anything worse than having to pull up your leggings the entire time you're working out. The waistband wasn't elastic and was held up by a drawstring, which means you would have to do exactly that. The worst!
Lululemon
Align Pant ⅞ $98.99
https://shop.lululemon.com/p/women-pants/Align-Pant-2/_/prod2020012?color=0001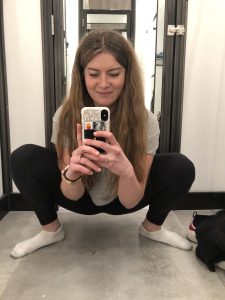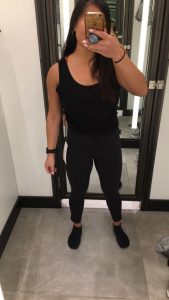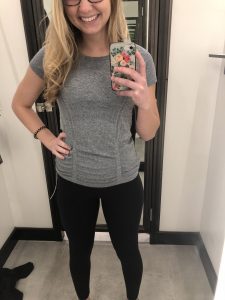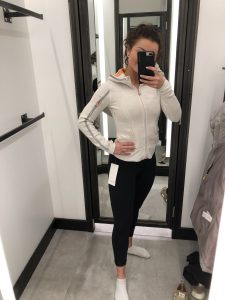 LuluLemon-
Bailey
Pros- Butter. Velvet. Cream. This pair was so silky smooth I thought we had become one. Ok just being real I typically wear lululemon leggings. That is why I was so excited to try this pair on. There are no pockets or zippers and I felt like a queen. Wearing a size 8, I felt like my most comfortable self.
Cons- They are not meant to be worn everyday. This sucks because ya girl wears leggings everyday. Aka my lulu's all have pilling, regardless of the kind. This is a major con because if I'm spending this much money on leggings, I want them to last. Regardless I keep coming back for more.
Emily
Pros- When I put one leg into this pair of leggings I knew they were going to fit like a dream. They felt like butter. They moved with my body. They sucked me in at all the right places and gave my booty that little extra perk. I feel so confident in them.
Cons- This specific type of lululemon legging is not meant to be durable. The company does have other pairs that are meant to wear everyday, but the leggings do not look or feel the same.
Brea
Pros- I absolutely love these leggings, they are so soft and smooth. I definitely did not want to take them off. I tried on the Align crops and they fit perfectly, no rolling or tucking for me! I highly recommend that if you're petite to try on the crops rather than the ⅞'s for a better fit.
Cons- Since the fabric of these leggings are such lightweight, they are recommended for light activity, such as yoga. If you wore these leggings for higher intensity workouts, they may wear and tear a lot faster than expected.
Avery
Pros- These leggings are a dream. An absolute dream. In my opinion, no legging compares. For a second, I forgot I was even wearing pants. The waistband hugged my stomach perfectly and I didn't have to do one of those awkward jumping while pulling your pants up moves after moving around in the align leggings.
Cons- Because the material felt like velvet sent from the heavens above, these are not the most realistic every day, heavy duty leggings. They are meant for light wear and they will wear down if worn day after day.
In conclusion, each one of us had different feelings and opinions about the leggings we tried on. Our main goal was to show our readers how normal the struggle is to find clothes that are a great fit for our bodies. Most companies create clothing for the "normal" person. However, there is a very small number of us who fit into that category. The average clothing model size is 120 pounds with a height of 5'10. But we are all so vastly different! We believe our differences make us who we are. If we were all the same, life would be boring! So be encouraged– you are not alone and you must find the right pair for YOU. Ditch the idea that you must have the coolest name brand or look like everyone else. Be comfortable in your own unique style!
If you have tried any of these leggings before, we would love to hear your thoughts! Also, do you have any brands/styles that help you feel great in your skin? Let us know!
__
Learn more about My Simple 7– daily actions to thrive in a strong, healthy, and peaceful body.