Hey there, wellness lovers! If you're looking for ways to perk up your skin, you've come to the right place. At Simple Wellness, we're proud to offer two of the best fillers on the market – Bellafill and Restylane. Whether you're trying to add volume to your cheeks, smooth out wrinkles, or plump up your lips, we've got you covered.
But that's not all! We're excited to announce our latest promotion – "Buy More Save More"! That's right, when you purchase multiple syringes of Bellafill or Restylane, you'll save big. It's the perfect opportunity to get your favorite filler and achieve the look you've always wanted.
So why choose Bellafill or Restylane? Not only are they safe and effective, but they're also long-lasting. Bellafill is the only dermal filler that stimulates collagen growth, providing natural-looking youthful results with 2 collagen and PMMA, that can last up to five years. And Restylane is a tried-and-true hyaluronic favorite among beauty enthusiasts, with a range of products designed to target specific concerns, from fine lines to deep wrinkles.
At Simple Wellness, we're committed to helping you look and feel your best. Dr. Durland is here to answer any questions you may have and help you choose the perfect filler to achieve your desired results. Plus, with our "Buy More Save More" promotion, you can save big while doing it.
Don't wait – call now to take advantage of this amazing offer! Your best self is just a few injections away! Ask for the "Buy More Save More" special.
Bellafill Filler Special: 1st syringe- $700, 2nd syringe- $650, 3rd syringe $600
Restalyne Filler Special: 1st syringe- $600, 2nd syringe- $550, 3rd syringe $500
Please note, this is a limited time offer with a limited amount of appointments available. The number of syringes needed will depend on the area of treatment. A deposit of 1/2 of the total purchase price is required when making your appointment.
Give us a call-  785-856-3030
Learn more about fillers here.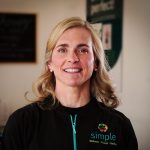 Dr. Samantha Durland is board-certified in Obstetrics & Gynecology, Anti-aging and Regenerative medicine and Fellowship trained in Metabolic and Nutritional medicine. Learn more about her ground-breaking philosophy and prescription for wellness- My Simple 7– daily actions to thrive in a strong, healthy and peaceful body. Visit the Simple Shop online to learn more about how Simple Wellness Supplements can be shipped directly to you.
Give us a call and schedule your in-person or virtual visit today!