Developing and maintaining a good skin care routine is an important investment that will provide immediate and long-term benefits. Not only will you have more youthful, healthy, and vibrant skin, you will also be able to help prevent future acne, treat fine lines and wrinkles, and repair any cell damage. Although it is extremely important to have a good skin care routine, it is even more important to make sure to invest in a skin care line that actually works. Just like supplements, not all skin care products are created equally.
Simple Wellness proudly uses and stands behind Epionce (Lawrence Office) and ZO Skin Health (Des Moines Office) skin care products. Both Epionce and ZO Skin Health are physician-strength skin care lines. Epionce is created by Dermatologist Dr. Carl Thornfeldt. From improving the visible appearance of skin aging to helping problematic skin, Epionce has a regimen to solve your individual, specific skin care needs. All products are paraben, fragrance, sulfate and gluten free. Unlike many other products on the market, Epionce does not contain harsh ingredients that can irritate the skin or cause unnecessary dryness. ZO Skin Health is created by Dr. Zein Obagi, board certified practicing Dermatologist and world-renowned skin care expert. As Medical director of ZO Skin Health, Dr. Obagi has created products with technologically advanced ingredients and even more effective formulations, designated into two categories: ZO® Skin Health and ZO® Medical. ZO® Skin Health products maintain the results of therapeutic treatments and provide effective daily skin care and protection from the environment, while ZO® Medical products have been optimized to treat a range of skin disorders and chronic conditions.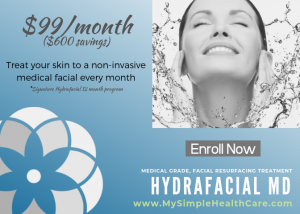 A good skin care routine is the top priority and should be part of your everyday routine. A basic routine includes a cleanser (based on your skin type), an exfoliation, a moisturizer, and, as always, sunscreen. Once a basic routine has been established, you can add additional products to address certain skin concerns. There are also more advanced treatments that can take your skin to a whole new level, such as Hydrafacials, chemical peels, and Secret RF microneedling. Whether your goal is to get rid of uneven skin tone, acne scars, or to improve the appearance of fine lines and wrinkles, we have a product line and treatment perfect for you.
Why wait another day? Take the extra 5 minutes each day to give your skin the attention it needs with a great skin care routine. A brighter, more youthful appearance is just around the corner. Let us make your skin care routine simple, learn more about the Simple Hydrafacial monthly program for only $99/month, available in both office locations.
___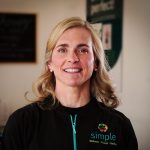 Dr. Samantha Durland is board-certified in Obstetrics & Gynecology, Anti-aging and Regenerative medicine and Fellowship trained in Metabolic and Nutritional medicine. Learn more about her ground-breaking philosophy and prescription for wellness- My Simple 7– daily actions to thrive in a strong, healthy and peaceful body.