I'm super excited to announce our newest innovative, non-surgical treatment for skin rejuvenation – InstaLift. This new procedure instantly lifts aging, mid-facial skin without surgery. InstaLift helps with improving the laxity of the face and neck as well as the appearance of cheeks, jowels and nasolabial lines.
InstaLift is done in the office with minimal downtime and quick results that can last up to 2 years. Have you ever lifted your cheeks or sagging neck skin in the mirror and envisioned a new youthful appearance? Go ahead, look in the mirror and try it- raise your cheeks to see how you look. Now you can get this amazing lift without going under the knife.
This procedure is done in less than an hour. In addition to the immediate lift, you'll continue to see results as InstaLift boosts your natural collagen production, adding volume to your cheeks and mid-face. These results can last up to 2 years. Getting an a lift without surgery and without fillers really is that SIMPLE. Visit our InstaLift page and give us a call for your free consultation.
_____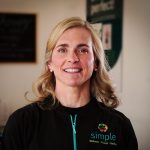 Dr. Samantha Durland is board-certified in Obstetrics & Gynecology, Anti-aging and Regenerative medicine and Fellowship trained in Metabolic and Nutritional medicine. Learn more about her ground-breaking philosophy and prescription for wellness- My Simple 7– daily actions to thrive in a strong, healthy and peaceful body. Visit the Simple Shop online to learn more about how Simple Wellness Supplements can be shipped directly to you.
Give us a call and schedule your virtual visit today!