I had a patient ask me about my resolution for this year. So after I thought about it for a while, I decided to share my resolutions with you.
I am so thankful for the journey of life and the opportunity to have it with you all. And while I have the honor and privilege of helping others, I too am on a journey of my own. Ask how I know what it is like in the stress response mode that I help patients navigate through. Honestly, I am living through so much of it myself. We all are. It is called life.
This year I look toward to exercising a little more, eating better, being even more present and more accepting of stillness. I look forward to more confidence in having weathered so many storms, and faith that if we can make it through all that we have, we can make it through anything. The human body and the spirit within are truly so amazing.
I feel like the last several years have been a process of figuring out how we can help people be their best self. We will continue to refine the systems of what we do and how we do it. I believe we all continue to grow into a better version of ourselves both personally and professionally and SIMPLE Wellness is a great example.
I look forward to mastering new procedures and educating my patients and the public to believe in the power of their body along with believing in the power within themselves.
Like I always say- The human body is easy. It is life that is the hard part. Here's to a wonderful journey into the next decade. Happy New Year!
_____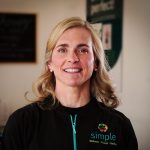 Dr. Samantha Durland is board-certified in Obstetrics & Gynecology, Anti-aging and Regenerative medicine and Fellowship trained in Metabolic and Nutritional medicine. Learn more about her ground-breaking philosophy and prescription for wellness- My Simple 7– daily actions to thrive in a strong, healthy and peaceful body. Also, learn more about Dr. Durland's Simple Weight Loss Plan (which includes the Simple 7-day Detox) and her Simple Hormone Plan to feel like a younger version of yourself.