I am constantly amazed throughout my day just how connected we all are. I am inspired by my patients and the stories they share with me of their lives. This poem was written by a patient in my practice who said it was okay to share. I hope that her words connect with you as they did with me.  Much love to you all…Sam
God's Hands
Butterflies and rainbows. The sun and the moon.
The puddles from the rain. Strawberries in June.
Bees on the flowers. The blue in the sky.
Whistling of the wind. Grass waving side to side.
Sand on the beach. Seashells talking in your ear.
Rocks on a mountain. The harness for your fear.
The stitch in your fabric. Ink in your pen.
Ivory on the keys. Let the music begin.
The color of the leaves. Feathers on birds.
The softness of puppies. Creation of words.
The sparkle in your eyes. Dimples in your cheeks.
Love in your heart. The sound and the beat.
Everything is created by God's loving hands.
The road that we travel. Our life stories and plans.
When our story on earth has come to an end
there is no period. A new chapter begins.
Our loved ones should know we're never alone.
His loving arms become our permanent home.
~ Ashley Stoner
_____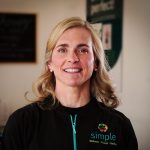 Dr. Samantha Durland is board-certified in Obstetrics & Gynecology, Anti-aging and Regenerative medicine and Fellowship trained in Metabolic and Nutritional medicine. Learn more about her ground-breaking philosophy and prescription for wellness- My Simple 7– daily actions to thrive in a strong, healthy and peaceful body. Visit the Simple Shop online to learn more about how Simple Wellness Supplements can be shipped directly to you.
Give us a call and schedule your virtual visit today!