The Simple Shop
All of our products are medical grade, evidence-based formulations that we personally tested and trust.  ** Some products are limited to 2 per order due to their popularity. Please contact us if you have not be instructed on which products will help your amazing body.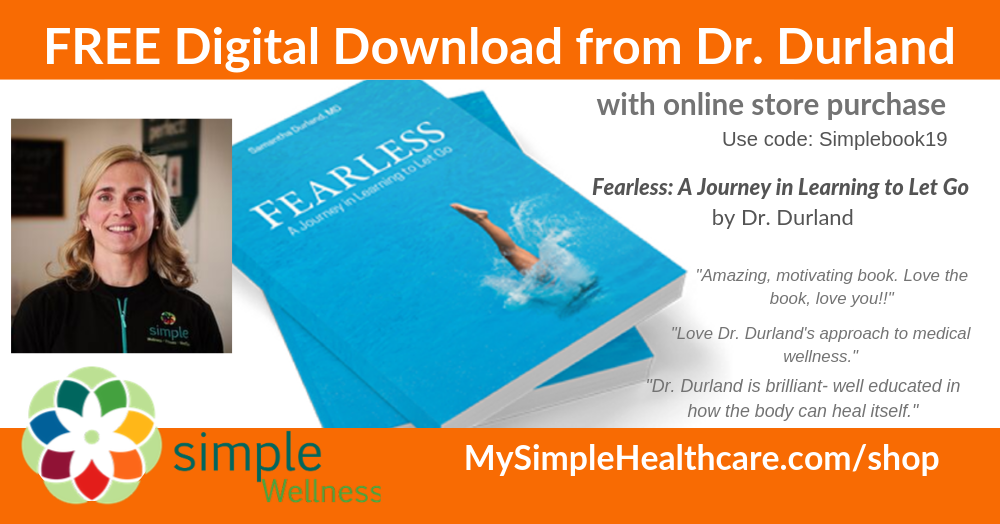 Additional Information:
Shipping: In most cases, we use priority ground shipping to deliver our products. Your order will be filled immediately. You always have the option to pick-up your order at either our Lawrence, KS location or our Des Moines, IA location. If you select the pick-up options, you will receive a notification via email when your order is ready for pick-up. Orders are usually filled within 24 hours.
Dedication: Our products are custom selected by Dr. Durland to each person's individual need and are meant to compliment the My Simple 7 wellness plan. We do not guarantee results, but we are dedicated to helping you find the right combination to thrive in a strong, healthy and peaceful body.
Backorders: Sometimes our products sell faster than we can stock them. But don't worry, backorders are usually filled within 3-4 days and you receive first priority. You will receive a notification when your product is ready to ship or pick up.
Returns: If you are dissatified with a purchase and wish to inquire about a refund, please contact the Simple Wellness Team immediately at (785) 856-3030.
Questions: If you have any questions about the Simple products, please contact us or email us at: amy@bornperfect.me.
Reviews: We value your opinion. Your personal experience with a product or service helps show the strength of our dedication to wellness. Please feel free to send any feedback or product review to us- amy@bornperfect.me.
Supplement Kits: Simple Wellness supplement kits contain only professional grade trusted products made from superior high-quality ingredients. All products are backed by science-based research and high standards. Although most of Dr. Durland's supplements are private labeled just for Simple Wellness, she also uses other trusted manufacturers that do not allow 3rd party online sales. For that reason, we are unable to list or show the contents of the kit. Bottom line, you can rest assured that these products are the real deal.
Required FDA Disclaimer: *These statements have not been evaluated by the Food and Drug Administration. This product is not intended to diagnose, treat, cure or prevent any disease.