I was thinking this morning that the sun still comes up and sets, there are still thunderstorms and rainbows, the grass is growing, the trees are blowing, the birds are flying and the dogs are still barking.
With all life events lately, there is a feeling of uncertainty and chaos, but when I look at the universe…when I look at everything BUT humans. It all remains the same.
Change is uncomfortable. We have to face ourselves.
Look to the universe and the laws that govern the earth for comfort. The realities that govern nature are still the same….only us humans are changing. It is normal for change to be uncomfortable. What is revealing, is that so much of what we have been taught to be the norm, is really just because they have been done in the past. Anything we decide to change, anything we have intent to make better….we can.
Nature's laws are the same. Man's thinking is just being challenged to be something better.
_____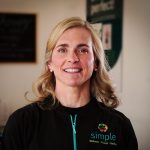 Dr. Samantha Durland is board-certified in Obstetrics & Gynecology, Anti-aging and Regenerative medicine and Fellowship trained in Metabolic and Nutritional medicine. Learn more about her ground-breaking philosophy and prescription for wellness- My Simple 7– daily actions to thrive in a strong, healthy and peaceful body. Visit the Simple Shop online to learn more about how Simple Wellness Supplements can be shipped directly to you.
Give us a call and schedule your virtual visit today!