I can hear it now, what the heck is "Newtox"? Well, this year the FDA approved a new Botox-like product called Jeuveau (pronouced joo-voh). Botox is a brand name given to the neurotoxin that is produced from the manufacturer Allergan.
Other neurotoxins include such products as Xeomin, Dysport and now Jeuveau. These products temporarily make muscles not be able to move and can help with muscle relaxation. There are many uses for these of which include migraine headaches, relaxation of neck pain due to contraction, bladder pain, relief of fine lines and wrinkles, and more.
These products tend to last for about 3 months at a time.
They work by blocking communication to the muscle that causes the muscle to contract.
As a non-surgical alternative for treating fine lines and wrinkles, neurotoxins work by relaxing the muscles so you cannot move them. With reduction in movement, you cannot crease the skin and show the wrinkles. Neurotoxins do not treat the wrinkles my making them go away- they just prevent you from being able to wrinkle the skin. There are other procedures that can fill in the wrinkles. This is what fillers and procedure that regenerate collagen do (like lasers, microneedling, radiofrequency, and more). The more you get neurotoxin treatments, the smaller the muscle can become and over time you may need less product overall.
The amount of neurotoxin you need correlates to the size of the muscle and the desired relaxation. Injecting the correct amount is an art form which requires a delicate balance between the amount of product injected to smooth lines and wrinkles while still maintaining your natural expression.  Everyone responds differently to neurotoxins so these are just some general guidelines:
Standard amount to inject of crows lines is 12 units per side (24 units total)
Glabella- the area between the eyebrows, or the 11s- standard dosing is 20 units
Forehead is variable- even tough it is a bigger area, the muscle is actually smaller in volume. Therefore can use 8 to even 20 units
Men tend to require more units because their muscles are bigger
A lip flip is only about 4 units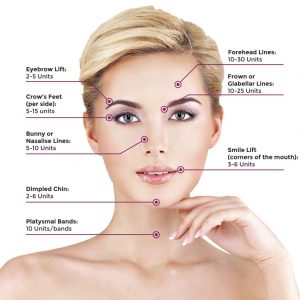 I've done a number of Facebook LIVE videos (usually on myself) to help my patients better understand the neurotoxin treatments. Here are a few:
My demonstration of neurotoxin injections
Neurotoxin can be used to treat migraines and tension of the head and neck. Standard neurotoxin treatment for migraines are often 155 units. But, I use less and target only the problem areas. I have had great success with only using the minimum amount necessary to treat the problem. This is cheaper for patients and does not give your body more product than is needed. Only get neurotoxin injections from highly skilled professionals and only get the minimum amount necessary to achieve the desired outcome.
Prices for neurotoxins are usually by the unit. On average, physicians charge anywhere from $12-$20 per unit and sometimes require a minimum quantity. To see before and after photos, check out our neurotoxins website page. Or even better, stop by our office tomorrow (October 2) anytime between 8am – 5pm and try out the Newtox in town, Jeuveau, for a discounted price of $9/unit. Walk-in or pre-book an appointment with no minimum amount of units required. Go ahead and give it a try…it really is that SIMPLE.
___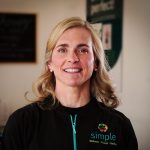 Dr. Samantha Durland is board-certified in Obstetrics & Gynecology, Anti-aging and Regenerative medicine and Fellowship trained in Metabolic and Nutritional medicine. Learn more about her ground-breaking philosophy and prescription for wellness- My Simple 7– daily actions to thrive in a strong, healthy and peaceful body here. Learn more about my Simple Weight Loss Plan (which includes the Simple 7-day Detox) and my Simple Hormone Plan to feel like a younger version of yourself.